Over Half of Decision-Makers Question Their Firm's Sustainability Strategy
New enterprise survey from CCS Insight and NTT DATA 58% of decision-makers are concerned about their company's sustainability strategy

Less than a third of executives are confident that suppliers provide adequate metrics about their environmental efforts

A myth-busting 60% of respondents believe that products and solutions redesigned to be more sustainable are cheaper and more effective
Progress hinges on support from innovative suppliers with proven sustainability credentials, along with tools for transparent measurement and impact reporting
Cluj-Napoca and TOKYO, 24 April 2023: Despite the widespread focus on sustainability, organizations struggle to define what the term really means to them and how best to approach it, reveals a new survey into sustainability in enterprise, conducted by CCS Insight with NTT DATA as a partner. The survey of more than 1,000 senior roles shows that 58% of decision-makers are concerned about the strength of their company's sustainability strategy. This jeopardizes their ability to respond to appetite from customers and employees and to widespread enthusiasm for sustainability action.
The research firm's study exposes a variety of obstacles holding organizations back, with over a quarter of respondents naming costs and insufficient return on investment as major challenges to their sustainability initiatives. More troubling is that less than a third of decision-makers are confident that suppliers provide adequate metrics about their environmental efforts, and a further 70% don't believe their partners do enough to communicate their commitment.
Although the environment dominates focus, many businesses prioritize economic, social and governance concerns. These decisions are a board-level responsibility, according to the survey, and the primary motivation for investment is to improve reputation, cited by 32% of senior leaders, followed closely by the need to comply with regulation, highlighted by 30%. Among UK executives, however, compliance with regulation and cost-cutting prove to be stronger pulls, cited by 46% and 34% respectively.
"Sustainability is starting to shift from aspiration to reality, with the foundations for corporate viability firmly in sight, along with hurdles that threaten to slow progress", commented Bola Rotibi, Chief of Enterprise Research at CCS Insight. "Over 60% of respondents said that customers are happy to pay more for sustainable products, yet less than 50% believe their firm should be paying more for sustainable materials and services — a dichotomy that shows the need for government incentives like tax breaks and grants to make sustainability more accessible and achievable", she added.
The findings validate the potential of technology to support different facets of sustainability. Improvements in renewable energy along with modernized infrastructure, application systems and IT operating processes were both named as critical investments for achieving sustainability goals. But respondents believe accurate measurement is where technology has the greatest opportunity, with 29% prioritizing intelligent measurement services that track carbon emissions in real time.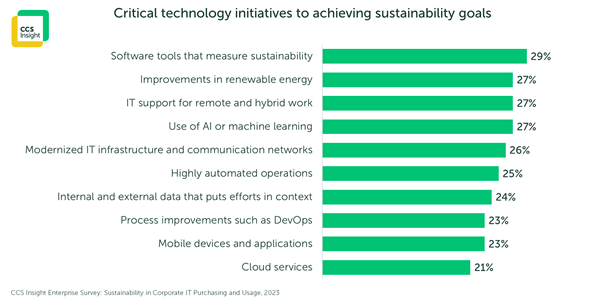 This message goes hand in hand with the need to demonstrate the credibility of companies' efforts: for 33% of respondents, the single most convincing action businesses can take to prove their commitment and avoid accusations of greenwashing is to provide transparent reporting. "Sustainability audits and materiality assessments are vital for decision-makers to understand priorities", said Maria Bell, Senior Analyst at CCS Insight. "They act as the framework for engaging, measuring and improving, and the basis for formulating and articulating the return on investment for the organization". Almost half of the respondents in the study use these assessments regularly, with a further 43% using them on an ad hoc basis.
"Realizing a sustainable future is the top priority for NTT DATA, and it requires a mix of individual actions, clear leadership and strategically applied technology solutions. However, organizations are grappling with defining return on investment and evolving their sustainability strategies, said Robb Rasmussen, Senior Vice President, NTT DATA. "The results of this study will help organizations to define actions and priorities for creating a more sustainable, inclusive and equitable future".
The CCS Insight survey provides valuable insights into sustainability investments and directions, the constraints holding back operations and the trajectory of the sustainability market. "Sustainability isn't a service to buy, nor a box to tick, but a strategy to pursue", noted James Sanders, Principal Analyst of Cloud and Infrastructure at CCS Insight. "To thrive, organizations must navigate the available financial incentives, surface the most appropriate regulations for their operations, provide visibility into cost implications and demonstrate innovation".