The Composable Enterprise
Welcome to the Gartner® 2022 CIO and Technology Executive Agenda: Industries Perspective Overview, part of Gartner deep dive investigation and reporting on disruptive trends and emerging technologies.
In the survey, CIOs from across the world report on their experiences of using strategic components as building blocks both for developing new products and services, and in using modularity to create composable enterprises.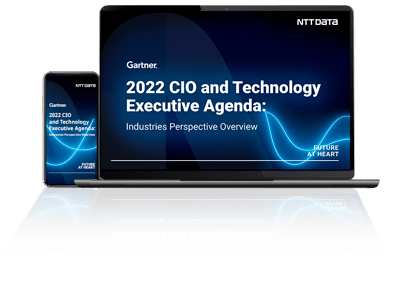 This is a technology development that has huge potential to reshape market sectors and define enable competitive advantage for enterprises with the understanding and know-how to adopt and profit from composability.
Gartner insights make it clear that early adopters of composability are outperforming slower-moving competitors, and the gaps are growing year on year.
At NTT DATA, we recognize that moving fast into a new technology area can be cause for concern. We help you develop a roadmap, based on your business priorities and cloud maturity, that keeps risks to a minimum and accelerates time to profit.
In this survey, you will find valuable insights that help CIOs to understand the potential for composability in their own business, to identify gaps and to understand how to fill them. The survey is an essential tool for practical work in building new methods and tactics for using composability effectively and safely.