Respond with Confidence to the 2022 Cyberthreat Landscape
Security leaders and professionals are facing challenges of unprecedented complexity, as their organizations drive digitization and cloud transformation at speed. As a thought leader in the cyber security space, NTT DATA understands the scale and urgency of these issues, and that's why we are glad to give you complimentary access to the latest Gartner® report, How to Respond to the 2022 Cyberthreat Landscape.
The report reveals how the growth of digitization inside enterprises, together with growing cloud use, is revealing possible weaknesses in enterprise defenses against cyber threats. We see how the growth in use of APIs, the rise of DevOps and remote/distributed working require fresh thinking and new strategies for effective threat management.
Yet the Gartner report also emphasizes how "commodity" threats, backed by human errors, remain the largest areas of weakness in any organization. The complexity of security challenges requires businesses to set their priorities clearly.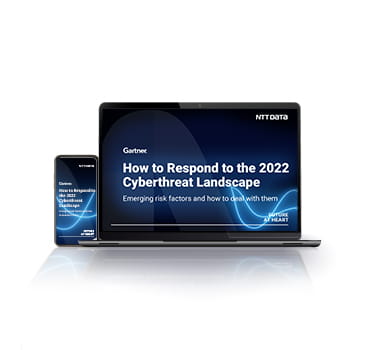 According to Gartner, "Organizations face new threats as they prepare for the future of work and accelerate digital transformations. Gartner's advice will help security and risk management leaders continually refine their strategy to combat top threats, high-momentum threats and emerging threats."
The report will help CISOs understand how to plan and manage their security strategies, while making the case for investment from their leadership teams.
We believe the Gartner insights make it clear that cloud adoption and digitization, which are necessary for long-term competitive performance, require new forms of cyber protection. At NTT DATA, we recognize that moving fast into a new technology area can be cause for concern. We will help you build an effective security strategy that matches cloud adoption with effective defense against existing and emerging threats.