The world is changing beyond recognition. Society is increasingly demanding that companies address sustainability as part of their transformation to a post-pandemic world. Sustainability is now firmly on the C-Suite agenda and it's at the heart of NTT DATA's vision for the future.

Introduction

Technology innovates at giddying speed every year, but 2020 proved to be an innovation leap year. It gave the world a new reason to take sustainability seriously. For much of 2020, planes were grounded and both international and domestic travel was curtailed. As a result, our carbon emissions dropped by an estimated 6.4%. This was significant but it is astonishing that even in a year when the world stood still, it's not enough to meet climate-change prevention targets.

It is estimated that data centres currently use around 1% of all electricity generated globally. This is forecast to increase to over 8% by 2030. Some models predict that 20% of the global electricity production could be consumed by the ICT ecosystem by the mid-2030 since networks, personal devices and televisions are included. We must look to technology for answers, and NTT DATA is ready to answer the call.

IOWN is a vision to create sustainable technology

IOWN is NTT's vision for fundamentally changing technology, delivering the communication infrastructure of the future. IOWN, or "Innovative Optical and Wireless Networks," reimagines the internet - some people call it 'the green internet'. IOWN transforms today's existing networks and data centres by introducing a new architecture that brings photonics into the chips. The potential is huge.
Chapter 1: Artificial Intelligence and its Role in a Sustainable Revolution
According to Gartner, the business value of Artificial Intelligence (AI) is forecast to reach $3.9 trillion in 2022, and represents the most disruptive class of technologies of the next decade. Gartner expects the biggest contributor driving value to be AI Augmentation – where people and AI work together to enhance cognitive performance. NTT DATA is at the forefront of this change, using AI to improve how its centres of excellence work. From using Machine Learning Operations (MLOps) in DevOps to AI-driven design to speed up the design process, AI is becoming an enabler that allows organisations to move more quickly and efficiently.

Download the whitepaper to find out more about:
Transforming how we work
AI and Healthcare
Smart Intensive Care
Virtual Patient Observations
Ethics and AIAI Driving the Fourth Industrial Revolution
Chapter 2: Gastronomy, Fishing and Sustainable Trading Using Blockchain
Few technologies have generated as much hype and excitement as blockchain. Despite being barely over a decade old, blockchain and distributed ledger technology have already been identified as the most disruptive technological advancements of the 21st century.

According to the Gartner Hype Cycle for Blockchain Technologies 2020, blockchain as entered a quiet period - the 'trough of disillusionment' - but within two years will move to the 'slope of enlightenment' as the "optimised convergence of private and public blockchains" emerges. Driving this is the use of private blockchains and their ability to strengthen and validate supply chains. Companies are now exploring the art of the possible, even though many projects are in their infancy. Forrester remarked in a recent note that the speed of enterprise projects with a tangible benefit attached to them is accelerating. The analyst firm predicts that more blockchain projects than ever before will move from the experimental phase into production in 2021. Organisations are beginning to see real value from the technology. As we'll see in examples of NTT DATA's work over the next few pages, some of the most exciting projects in blockchain are those that work across borders and support the sustainable agenda.

Download the whitepaper to find out more about:
Traceability and Blocktrace
Sustainable Trade
Blockchain for Energy Conservation
Sustainable Finance
Carbon Trading
Chapter 3: Adaptive Design for a Future World
The world of design is changing. Increasingly we are designing systems that minimise human effort through automation and this makes every touchpoint even more important. Collaboration is key – when we design together, we create solutions that last.

NTT DATA's network of design studios employ designers who are encouraged to consider how innovation in design can benefit specific societal causes. To help achieve this, the 20/80 project was launched. Under the programme, designers can present an idea of how their work could be used to benefit a humanistic non-profit project, and then devote 20% of their time at work towards making it a reality. In line with NTT DATA's vision of using teamwork and foresight to help build a better society, the 20/80 projects inspire our designers and enable them to bring about positive changes in society.

Download the whitepaper to find out more about:
20:80 in Action - Artificial Intelligence Design For Autism
Digital Twin and Smart Cities • Adapting Design for the Future
Chapter 4: Harnessing the Power of IoT
The number of IoT devices being connected to the web is growing by an estimated 127 new devices every second. And it's predicted that over 35 billion IoT devices will have been installed worldwide by the end of 2021.

Gartner states, "IoT is an approach to building business solutions using a portfolio of technologies." It is not an isolated application but rather the ability to leverage vast quantities of actionable data that make it invaluable to technological innovation. Harnessing the power of data collected by IoT networks can lead to huge efficiency gains. Resources can be managed sustainably at a vast scale. Labour-intensive processes can become automated. And our lived environments can be transformed into responsive ecosystems that anticipate our wants and needs.

With such capabilities, IoT technology has the potential to help us tackle some of the biggest challenges facing the world today. NTT DATA is collaborating with experts around the world to put innovative IoT solutions into practice.

Download the whitepaper to find out more about:
IoT Human-Centric Approach
Smart Cities
Improving Public Safety in Las Vegas
Transforming Office Environments
Smart Farming
IoT For Resource Management
IoT and Security
Chapter 5: Delivering the Future Faster
NTT DATA defines DevOps as a combination of culture, practices, and tools that increase an organisation's ability to deliver systems at high velocity. Its purpose is clear – to deliver innovation quickly and securely. It is the key to enabling a faster delivery of innovation and the future technologies required.
DevOps is sometimes considered more an aspiration rather than a set destination. It gives us the capacity to deliver software at scale and is fundamental to our ability to innovate while incorporating continuous improvement. The DevOps of a decade ago focused on IT services alone. It now spans the entire enterprise seeking ever higher output and operational efficiencies.

We are also seeing a change in how we think about the development lifecycle, evolving from the fixed projects of the past through to product centric thinking. We are transitioning from the idea of temporary projects to something more permanent in organisations: products.

Download the whitepaper to find out more about:
DevOps and Time To Learn
From Automotive Manufacturing to Lean Software Development
Delivering Digital Success With NTT DATA's Idea Model
Innovating in DevOps at NTT DATA • The rise of Low Code
Digital Twins From Smart Connected Products
Water Management Using Smart Products
Putting The Sec In DevSecOps - Developing Secure Systems
Automotive Security and how to design a Secure Car • Driver Sentiment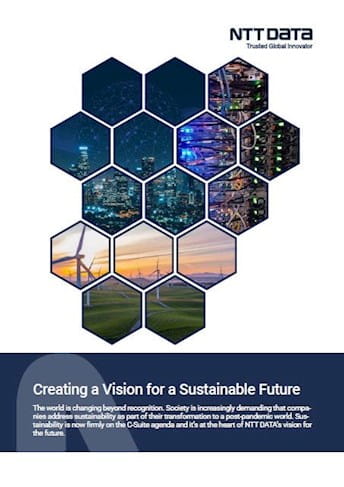 Whitepaper
Creating a vision for a sustainable future
The world is changing beyond recognition. and sustainability is now firmly on the C-Suite agenda.
Download Whitepaper [PDF]