In this whitepaper, we will explore integration phases and design principles of Smart Maintenance. We will define the challenges and benefits leaders face in each industry, and we will see how NTT DATA have found the place for Sound Anomaly Detection (S.A.D.) in the Smart Maintenance area using A.I.
Discover how using a deep understanding of the technology and the processes needed for implementation, NTT DATA's experts can help leaders make a Smart Maintenance roadmap and define steps of S.A.D. system integration.
CHAPTER 1: SMART MAINTENANCE
Smart maintenance describes learning-oriented, self-regulated, intelligent care with the aim of maximizing the technical and economic effectiveness of maintenance measures.
Artificial intelligence (AI), which covers a wide range of technologies from statistical analysis to machine learning, deep learning or even meta-heuristics, plays an essential role in integrating Smart Maintenance.
At this moment, companies are struggling to implement the Industry 4.0 applications/strategies, specific challenges of Smart Maintenance and understanding challenges for different industries. In June 2019, a massive ecosystem of 135 start-ups in Predictive Maintenance and 222 Predictive Maintenance solutions impacted the energy industry. Industry 4.0 revolution is pushing maintenance to evolve faster, bringing more innovative solutions to the beneficiaries.
CHAPTER 2: S.A.D. IN MAINTENANCE
Early detection of industrial units' damage due to continuous usage and normal wear and tear can prevent further escalation and losses. Sound Anomaly Detection aims to identify if the sound coming from the target machine is related to the equipment's normal or abnormal behaviour.
Understanding anomaly sound detection procedure based on outlier detection (observing sound, extracting acoustic features, calculating anomaly score and detecting anomalies) and advantages (completely wireless, easy installation into already existing equipment, portable sensor solution) can leverage the usage of such technology.
CHAPTER 3: NTT DATA S.A.D. TECHNOLOGY
Sound Abnormality Detection (S.A.D.) system, offered by NTT DATA, detects anomaly sound by training only with the normal operating sound of machines in factories.
The solution captures sounds from the target source in a noisy environment, using "Intelligent microphone technology" developed by NTT DATA. Environment noise is suppressed, Suppression Technology with a microphone array, resulting with cleared and emphasized operating sound. S.A.D. technology improves maintenance efficiency, quality and rapidness by using A.I. analysis in the factory or infrastructure equipment. Improvements in equipment operation rate and reduction in costs validate the value of NTT DATA S.A.D. technology.
Description of processes, actors involved, and the implementation of more integrated solutions with mechanical data, thermal data, environmental data, and radiation exposure data are given in detail.
CHAPTER 4: KEY TAKEWAYS
Understand the company's objectives for smart maintenance, determine the current state of the transformation process for smart maintenance, define the common goal for all stakeholders involved and try to accept upcoming changes in the early stages.
The following four easy-step development paths are determined: paying attention to the different relationships (technical, organizational or cultural) and the next concrete development steps derived.
Smart Maintenance Roadmap could be presented based on the six design fields:
Joint planning
Availability orientation
Flexibility
Knowledge management
Spare parts management
Value contribution
The six design fields are supported by six maturity levels:
Computerization
Connectivity
Visibility
Transparency
Predictability
Adaptability
The system becomes collaborative, capable of sharing meaningful information, aiming to accomplish system goals. Also, it becomes able to recover from disturbances without or with minimal human intervention in near real-time, increasing its heal ability. As a result, maximization of equipment uptime, reliability and availability, reduction of costs, elimination of risks, and optimizing operational efficiency brings the core value to this change.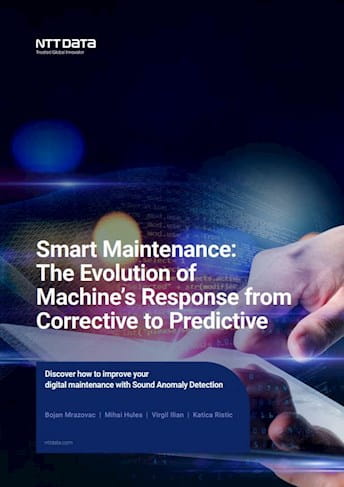 WHITEPAPER - 15 MIN READ
Smart Maintenance
The Evolution of Machines Response from Corrective to Predictive
Download Whitepaper [PDF]