On the 22nd of June, in a press conference held at the NTT DATA headquarters the partnership was announced by Daniel Metz - CEO NTT DATA Romania, leaders of the "U" Cluj club and the volleyball team, as well as the goals for the team's performance for the next season.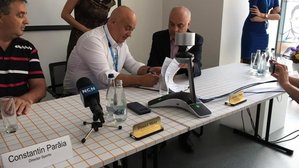 "It is a complex program that has to do with what happened in the recent years. As an objective, on the medium and long term we set a goal to be present in the community because my vision is that a brand, a company will be successful in the long term, only when it will be perceived as a company involved in the community especially in those areas where, unfortunately, due to budget limitations, money is simply not enough. I believe it is our responsibility that when we identify such needs, it is important to do our best to support them. Of course we cannot be everywhere because we also have limited resources. It's not beneficial to be involved everywhere because some messages will be diluted. I consider art, culture and sport to be fundamental elements of the community and society. Unfortunately, momentarily, money for the aforementioned areas are not enough.
We noticed the problems which sports clubs have, so we decided to start supporting the women volleyball team from "U" Cluj and realized that if we do not support such a sporting phenomenon, it will start suffering, especially when there is no one else to support an area where the audience is not as big as the one you find on a football stadium. This collaboration has been a beneficial one, which brought results. Thus, at the insistence of the gentlemen who manage this team, we analyzed and concluded that it would be even better to get involved in a more serious way in the destiny of this team." says Daniel Metz.
Constantin Paraia, manager of the team, said that the collaboration with NTT DATA proved to be beneficial so far, the club managed to promote in the first league again last month:
"I have a lot of faith in this team, which is why I have often asked Mr. Metz to support us and make a team that Cluj deserves. I am extremely pleased that I have been able to get the support of NTT DATA and I am assuring Mr. Metz that we will do everything we can to improve continuously."